Filtration screen FB800x4000
Van Dijke's filtration screens offers you a successful system for removing organic material such as leaves, skin parts, etc., and sludge out of your used processing water.
The unit is perfect to keep your settling basin/tank clean. The removal of organic material is a good start for recycling water and avoids a bad smell In the pond. The water separation screen is an innovative alternative for the traditional rotary waste separation screens. The system has a minimum of bearings, only four, which are placed outside the hopper. The advantage of this is that it is very easy in maintenance. Besides that, the system has a conveyer frame directly integrated into the unit for a minimum of used parts/components. So the machine is a solid solution for water recycling, is easy to clean and has usually a long lifetime.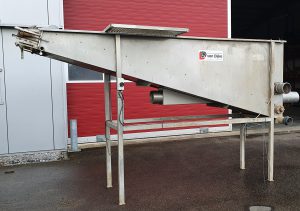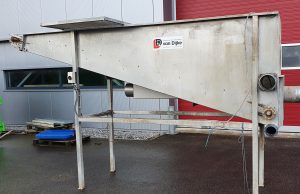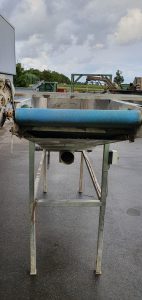 ---
Specifications
Number
Brand
Type
Build in
Condition
Price

:
:
:
:
:
:


Van Dijke
FB800x4000
2010
Good
€

---
Gallery